WordPress FullText Search
for powerful modern in-site search
The FullText Search plugin has been developed specifically for WordPress. It creates a transparent, word-based index to ease the search, adds relevance, makes meta fields and attachment files searchable by their content and even more.
The PDF, DOC, DOCX, and other formats are supported.
It complements the built-in WP search, rather than completely redefining it, unlike other wordpress search plugins.
This means that all functions of WP and even 3rd-party plugins will use a new improved search without any modifications.
No need to rent an external service to store the search index - everything is located and works from your database.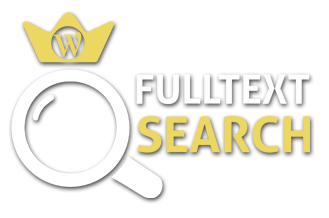 The best solution to find attachments by their content 
 No need to code or set up for hours - it just works... Awesome!
 One of the must-have plugins for the WordPress 
 Very flexible plugin, we solved all issues with the PDF files on our website with it 
How Does It Work?
A modern two-stage search approach
(this method is also used by Google, Yandex, Bing, and other popular search engines)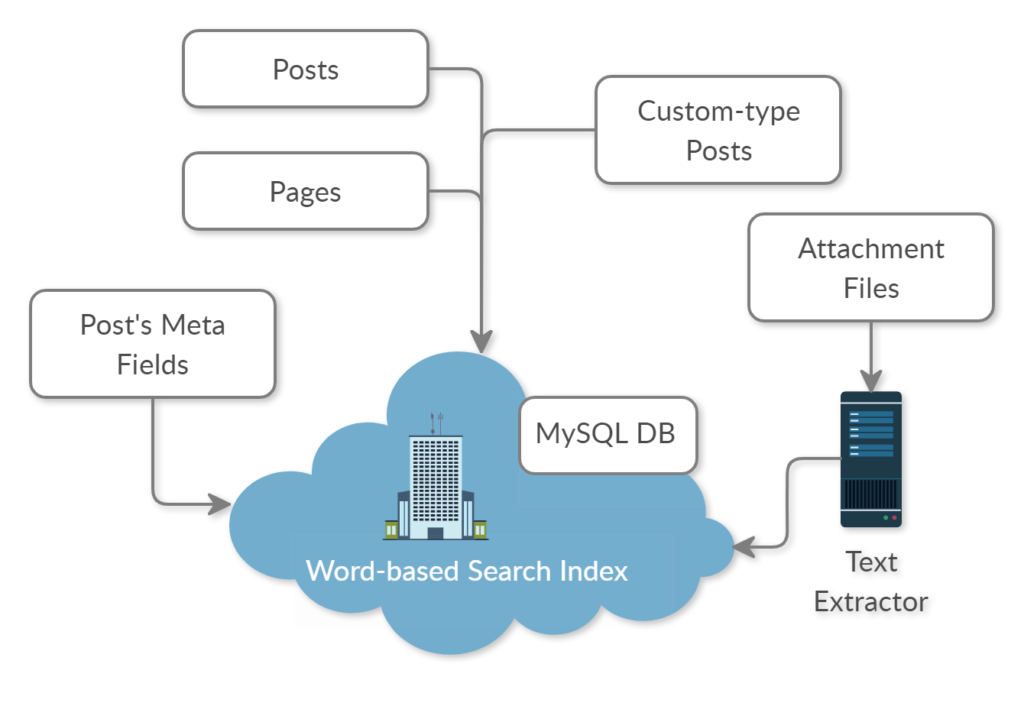 STAGE #1: Data Indexing
Immediately after activation, the plugin extracts all data from your website database (posts, meta fields, categories, tags, attachments' content, etc) and put it to a separate high-optimized structure, called "Word-based Search Index".
This index uses MySQL WordPress database but different tables. No existing data tables will be touched. This index will be kept in sync when you make any changes in WP.
Unlike Google or Bing, WPFTS Pro processes the internal data of the site, not HTML webpages. Thanks to this, even protected data is indexed and can be made available for search.
STAGE #2: Search and Display
When the website user makes the search, the plugin dynamically improves the standard WordPress search functionality (WP_Query) using hooks so WP uses the Word-based Index to search textual data. Thus all previously indexed data become searchable like usual posts.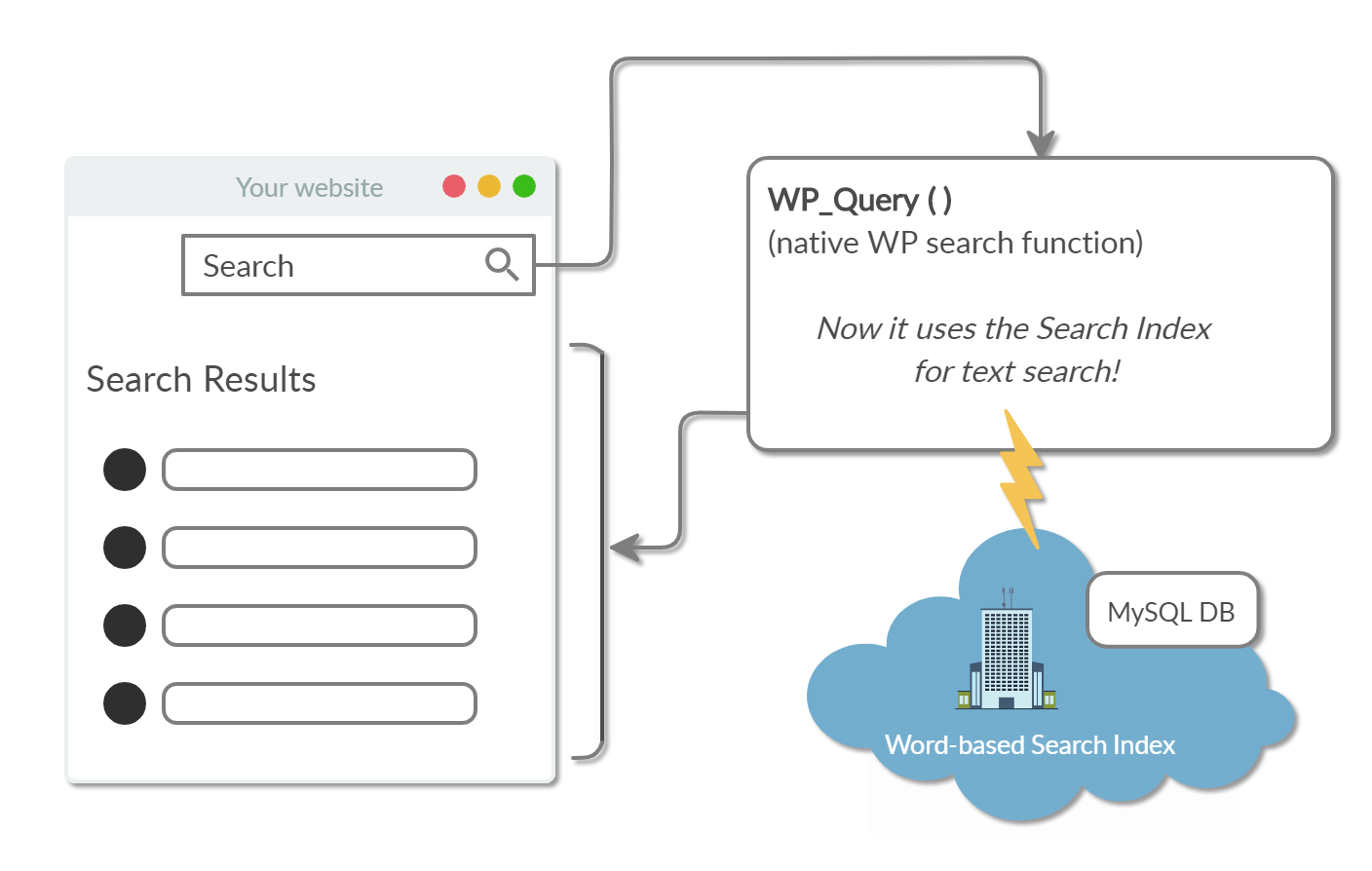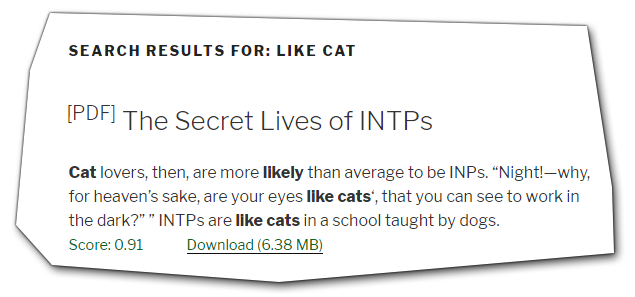 Finally, the WPFTS plugin shows found records in a user-friendly manner (like Google does) using your existing theme page. You don't need to change any template for this. Even the attachment files will be magically shown in search results!
Has been running since 2016 on a variety of sites
"When we finalized the WordPress platform, to host our legal websites of India, it also became clear that the default search of WordPress is not up to mark. Our sites would excel only, with a powerful search tool. In came FullTextSearch, too much of a relief, installed it and now results are very very relevant and fast. Swell support. Very competitive pricing."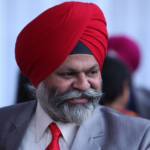 "As webmaster of a car club, I was looking for an affordable tool to make our pdf file library searchable. I discovered the Fulltext Search plugin and bought a license. It worked great, but my service provider reported performance problems and shut it down. I reported this to the development team, and after an update, this problem was solved. Now it works great again!. Don't expect miracles, but for this price, it really works like magic!"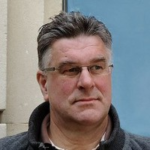 "Highly recommended. I was trying ajax search which failed in attached pdf search while WP FullText Search delivered what I expected. I have never ever experienced such attitude to potentional customer. They spent some hours with advice how to set up and configure plugin so that it works without glitches with PDF Embedder and other plugins I am using.
This help saved probably hundreds of hours with creation of my web site. I must say again – unbelievable, I am impressed as never in my life."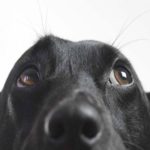 How is WordPress FullText Search built?
How does WPFTS expand the search abilities?
What are the requirements to the website hosting?
How is WordPress FullText Search built?
The inbuilt ("standard") search in WordPress simply searches through all posts on your website, comparing the search request with the title and posts' content. The more files (posts, pages, etc.) the site has, the slower the search process will be. For example, if you website contains more than 10000 posts the search process can take from a few seconds to tens of seconds! It is not convenient for an end user and heavily overloads a server.
WordPress FullText Search plugin provides a background scan of all data (posts and pages) on your site, splitting them into separate words and writing a systematized structure in separate tables of database (the so-called "index"). At the same time, the search significantly speeds up because the index for the requested word (or the combination of words) immediately shows the list of all files where this word is used. Such algorithm works hundred, if not thousand times faster than the standard search. That is why a similar algorithm is used by Yandex, Google, Facebook, VKontakte and other popular search engines.
The complete search index is built once - after the first activation of the plugin. Thereafter WPFTS plugin will correct the data in the created index during adding, editing or deleting of posts/pages in a "clear" automatic mode. 
The search index is saved and stored in a separate database. Your original data remains unchanged.
How does WPFTS expand the search abilities?
What are the requirements to the website hosting?
Early bird gets more!
Get the exclusive price 25% OFF till May, 25!
With this one-time payment, you will get 1 YEAR of support and updates.